Every year kids anticipate Easter because of all the wonderful goodies they will receive in their Easter Baskets. Do you want to be the parent that doesn't include the top 10 Easter basket candies in your child's Easter basket? Fear not, we have the shopping list that will guarantee that your Easter Basket will live up to your children's expectations!
Top 10 Easter Basket Candies
PEEPS® Brand Marshmallow Candies

No Easter basket is complete without this staple, marshmallow Peeps. These delicious chicks or bunny-shaped treats are loved by many and were introduced nationally in 1958. There are many ways to eat a Peeps and the options available could be a post on its own but some of the most popular ways are aged 2 to 3 months, heated in a microwave, or even frozen.
Cadbury Crème Egg Candy
The Cadbury Brothers were manufacturing filled eggs since 1923 but the Crème Egg in its current form was introduced in 1971. You can't avoid the Cadbury Crème Egg even if you tried because it sits atop every counter where candy is sold during Easter. Just remember how messy they get because that chocolate seems to melt as soon as it touches your skin.
Jelly Beans

The earliest known appearance of the modern Jelly Bean was during the American Civil War. There are so many choices of Jelly Beans to choose from including Starburst flavored as well as the gourmet variety with Jelly Belly. Stick with the popular brands and you can't go wrong.
Robin's Eggs Candy
Robin's Eggs are a must in any Easter Basket. These egg-shaped chocolates mix perfectly together with the jelly beans at the bottom of the basket. Most kids will eat them along with jelly beans for the ultimate sweet flavor mix.
Reese's Peanut Butter Eggs
Anyone that loves a Reese's Peanut Butter Cup will want this in his or her Easter Basket. The Reese's Egg has become a staple of Easter and epitomizes the perfect marriage between chocolate and peanut butter.
Chocolate Bunny
With a Chocolate Bunny, size does matter and your child will notice if this isn't towering over everything in the Easter Basket. Don't skimp out on this treat or else!
Chocolate Marshmallow Eggs
The Chocolate Marshmallow Egg is also a crowd-pleaser on Easter and should always be remembered for any Easter Basket. Chocolate marshmallow eggs also come in different flavors like milk or dark chocolate, caramel, cocoa, and more! Which ones are your kids favorites?
Cadbury Mini Eggs
This Easter favorite can arguably be included with Robin's Eggs but its popularity requires that it be listed on its own. It is the sugary crunch of these milk chocolate eggs that makes Cadbury Mini Eggs so special.
Chocolate Eggs
Along with the Chocolate Bunny, Chocolate Eggs are a requirement in every Easter Basket. Although, you don't need to worry about size with these treats because they are usually the last items eaten in the Easter Basket. They aren't a favorite of most but they make great space fillers and can provide some color to make the basket look festive for the holiday.
Kinder Joy Eggs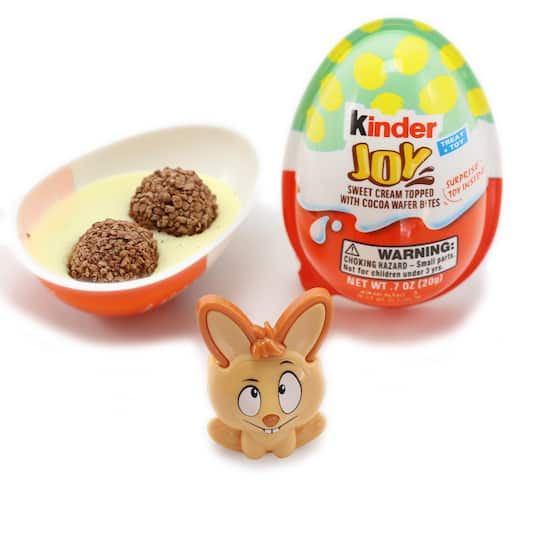 A relatively new Easter candy favorite is the Kinder Joy egg. Loved by many, and not just kids, an added bonus is each Kinder egg comes with a surprise toy inside. The perfect addition to their Easter baskets!
We hope you enjoyed our top 10 Easter basket candies list. Did we miss any? We'd love to hear what candy you would like us to include in next year's Easter baskets. Find us on Twitter, Facebook, and Instagram!
If you don't have the time to create your own Easter basket. Order one here!
© Photo by Graham Walker from Pexels
Save
Save